The "Kansas Governor's Ringneck Classic" organizing committee is committed to contributing to northwest Kansas, the youth of our communities, area projects  and wildlife habitat. As such, the proceeds from the 2011 hunt will be distributed to and through four different organizations.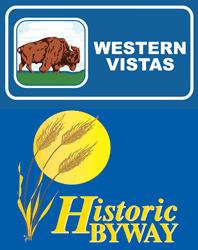 The Western Vistas Historic Byway was designated in 2010 the first Historic Byway under the Kansas Department of Transportation's Scenic Byway Program.  The Byway offers a truly unique insight to the past as it blends three "Wild West" counties (Scott, Logan and Wallace) and their special history together into an exciting journey through a significant portion of Western Kansas.
Western Vistas Historic Byway website
The mission of the Logan County Healthcare Foundation is to enhance local health care services by:
Providing scholarships to medical professionals who agree to work in Logan County
Sponsoring health education and awareness programs like the Wellness Fair
 Upgrading technology so we have current technologies instead of outdated ones
Providing medical equipment – replacing equipment that has worn out and purchasing new equipment
Assisting in recruitment of medical professionals
Logan County Health Care Foundation website
Pheasants Forever is dedicated to the conservation of pheasants, quail and other wildlife through habitat improvements, public awareness, education and land management policies and programs.
NW KS Classic Conservation Foundation.  The Kansas Governor's Ringneck Classic is committed to supporting and preserving our natural resources.  We're dedicated to the belief that all wildlife, including upland birds will benefit from public awareness, education and superior habitat management.  As such, "The Classic" will annually fund a college scholarship to be awarded to a student majoring in a related field.