Over $50,000 was raised for the beneficiaries of our 2013 event hosted by Norton & Graham counties.
2014 Beneficiaries
The Northwest Kansas Conservation Foundation: The NWKCF was created by the Kansas Governor's Ringneck Classic to support habitat improvement and wildlife conservation in Northwest Kansas. The foundation receives funds annually as a beneficiary of The Ringneck Classic.
Friends of Lake Scott State Park
Scott County Historical Society: The Scott County Historical Society is dedicated to preserving the history of the Scott County area and educating the community and visitors about the function of El Quartelejo Museum and the Jerry Thomas Gallery and Collection.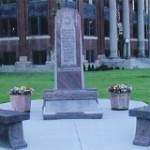 Scott County Veterans Memorial:  Located on the lawn of our County Court House is a memorial with a special remembrance to those in Scott County who made the ultimate sacrifice in serving their country.
Healy Weight Room