2017 Youth Hunters
From Left to right: Classic essay winners Taylor Maxfield and Tanner Parks and Pass It On Mentors youth Angel Galvez and Gage Dean.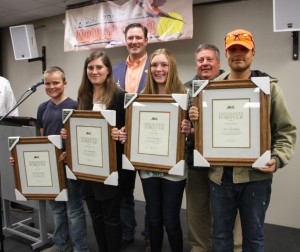 2016 Youth Hunters
Front Row from left to right: Classic essay winner Scott Owen, Pass It On Mentor youth Krystianna Ferris, Classic essay winner Emily Miller, Pass It on Mentor youth Montez Tucker.
With presenters (back row): Pheasant Forever's Jordan Martincinch and Pass It On! Mentors' Mike Christensen
2015 Youth Hunters
Front Row – shown left to right:
Pass It On Mentors – youth hunters, Sebastian Hickok and Chazare Oliver, Jr. with
The Classic Youth Hunt Essay winners Beau Foster, Dodge City, KS and Jack Parks, Peabody, KS
2014 Youth Hunt winners were Ella Ihrig, Sherman County, KS and Jared Austin, McPherson County, KS – shown with their lifetime Pheasants Forever Memberships
2013 Youth Hunt winners were Jacob Shafer, Lenexa, KS and Ellee McDaniel, Goodland, KS. Shown with Pass It on Winners Dan Biehler (left), Chris Harter (right) and Governor Sam Brownback.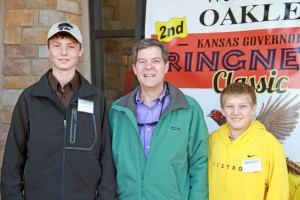 2012 Youth Hunt winners were Tate Tremblay, Penokee, KS and John Nelson, Shawnee, KS. Shown with Governor Sam Brownback.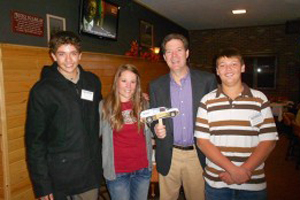 2011 Youth Hunt winners were Jude Faulkender and Payton Beims – both from St. Francis
They are shown with Governor Sam Brownback and Kelsey Konrade of TV's Bass Pro Next Generation.