Welcome Buck Taylor to the 2015 Kansas Governor's Ringneck Classic.
Buck is a legendary actor and artist who is well known as Newly O'Brien from the series, Gunsmoke.  He was also featured in Tombstone as Turkey Creek Jack Johnson. 
Buck Taylor is an actor, an artist and a Western icon.  Buck is the son of famous actor, Dub Taylor, and hi literally grew up on movie sets.  In the fifties, Buck appeared on episodes of The Adventures of Ozzie and Harriett and My Favorite Martian, to name a few.  He has also appeared in many movies, including such box office hits as Tombstone and The Alamo.  Buck's breakout role was the character of Newly O'Brien in Gunsmoke.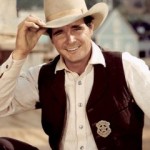 He acted on the series for eight seasons.  Buck is an artist in more ways than one.  His watercolors can be seen in museums and galleries across the country.  Boot Hill Casino & Resort is proud of its association with Buck Taylor and his remarkable career.